As more children are diagnosed with gluten sensitivities or celiac disease, finding suitable food options is fast becoming an everyday priority for parents and caregivers.
Celiac disease reportedly affects around 1 in 300 children in the United States alone, although, with a parent or sibling who is affected, that number rises to 1 in 10.
A gluten-free diet eliminates wheat, barley, and rye, but that doesn't mean it has to be boring or restrictive; far from it. These days, there is a wide array of delicious and nutritious gluten-free foods available for kids to enjoy.
As clean-label food company, Safe + Fair, says, 'We recognize the vital importance of sticking to gluten-free foods for the health and well-being of those dealing with celiac disease and gluten intolerance, and the prevalence of this issue is growing among our children. Thankfully, it's easier than ever to stick to a diet entirely free from gluten, without compromising on taste or food experiences. It might feel like a daunting prospect at first, but transitioning a child to a gluten-free diet has never been easier, it just takes a little research and adjustment.'
Here is a comprehensive list of gluten-free foods, offering parents and caregivers a helpful guide to help ensure their children's dietary needs can be met without compromising on taste or nutrition.
Breakfast Options
Breakfast is an important meal for growing children, and thankfully, there are plenty of gluten-free choices to help kick-start their day.
Traditional breakfast foods like eggs, bacon, and sausages are naturally gluten-free, and can be paired with gluten-free toast or tortillas made from rice or corn for a hearty brekkie.
Oatmeal can also be a great gluten-free option, so long as you choose certified gluten-free oats. Additionally, there are other gluten-free cereal options available, such as corn flakes, rice puffs, or granola made from gluten-free grains.
Grains and Cereals
Grains and cereals are staples in most children's diets, but with gluten restrictions, it's important to choose suitable alternatives; fortunately, there are numerous gluten-free options available, such as:
Quinoa
Rice (including brown, white, and wild rice)
Cornmeal
Millet
Amaranth
All the above grains can be used to make gluten-free bread, pasta, cereals, and snacks.
Bakery and Baking Ingredients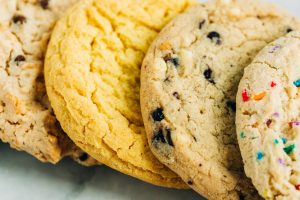 Who doesn't love baked goods? The good news is that there are many gluten-free options that make for tasty baked treats.
Look for gluten-free bread, pizza crusts, muffins, and cookies made from rice, almond, or tapioca flour. Additionally, if whipping up delicious homemade treats is in your bag of tricks, get your hands on some gluten-free baking mixes and flours. Also, consider stocking up on gluten-free baking staples, such as almond flour, coconut flour, tapioca starch, and potato starch for any last-minute baking projects.
Fruits and Vegetables
Fruits and vegetables are naturally gluten-free and should form a significant portion of any child's diet. Encourage your child to explore a rainbow of colors, as fruits and vegetables of differing hues offer up a variety of nutrients. Whether it's apples, bananas, berries, carrots, bell peppers, or fresh leafy greens, fresh fruits and veggies are jam-packed with essential vitamins, minerals, and fiber for growing bodies. There are plenty of benefits to teaching gardening to little ones too, so consider growing your own gluten-free goodness if that's possible.
Protein Sources
Protein is crucial for a child's growth and development, and thankfully, there are numerous gluten-free options to choose from.
Lean meats such as chicken, turkey, and beef are naturally gluten-free, as are fish and seafood.
Plant-based protein sources like beans, lentils, quinoa, and tofu are excellent alternatives for vegetarian or vegan children.
Ensure that processed meats like sausages, deli meats, and meatballs are gluten-free by checking the ingredient labels
Dairy and Dairy Alternatives
Most dairy products are naturally gluten-free, including milk, cheese, and yogurt, so off the bat, dairy isn't a particularly difficult area to navigate. That said, some children with gluten sensitivities may also have lactose intolerance or dairy allergies.
In such cases, there are several dairy alternatives available, including:
Almond milk
Coconut milk
Rice milk
Soy milk
Make sure to choose unsweetened varieties and double-check labels for any sneaky gluten-containing additives.
Snacks and Treats
Kids love snacks and treats, and there's certainly no shortage of gluten-free options to satisfy their cravings. Excellent choices include:
Rice cakes
Popcorn
Corn chips
Gluten-free pretzels
Veggie chips
Fresh fruit
Yogurt
Gluten-free granola bars
When it comes to special treats, there are gluten-free versions of cookies, brownies, and cakes available in most grocery stores; you can also experiment with homemade gluten-free recipes to indulge your child's sweet tooth. Gluten-free yogurt parfaits and chia seed puddings are also healthier dessert alternatives, and for special occasions, gluten-free ice cream, popsicles, and sorbets should certainly keep the kiddies happy.
Soups and Sauces
Soups and sauces can be a delicious and nourishing addition to any meal. When selecting store-bought options, always check the labels for gluten-containing ingredients, although many brands now offer gluten-free versions of the most popular soups and sauces which is handy.
Alternatively, it's pretty easy to make homemade versions using gluten-free ingredients. Chicken noodle soup, for example, can be made with gluten-free pasta or replaced with rice or quinoa; tomato sauces for pasta or pizza can be made using fresh ingredients or gluten-free canned tomatoes; homemade vegetable or chicken broth is also an excellent gluten-free option for making soups and stews.

Pasta and Noodles
Pasta dishes are typically a favorite among children, and there's no shortage of gluten-free pasta options available.
Look for gluten-free pasta made from rice, corn, quinoa, or legumes like lentils or chickpeas; these alternatives provide the same texture and taste as traditional wheat-based pasta, and come in a range of traditional styles, such as gluten-free lasagna sheets, spaghetti, macaroni, and other pasta shapes. Experiment with different sauces and toppings to create yummy, filling pasta meals without a hint of gluten in the mix.
Beverages
When it comes to beverages, most options are naturally gluten-free. Water, 100% fruit juices, and homemade smoothies can all be safe choices. Teas and coffees are also gluten-free, but be cautious when adding flavored syrups and such, as they may contain gluten (or gluten-containing ingredients – you have to really drill down on ingredients within ingredients).
Check the labels or opt for gluten-free alternatives. Additionally, there are plenty of gluten-free sports drinks and other flavored waters available for active kids who need to keep their hydration up during physical activities; even outdoor winter activities can cause dehydration.
School Lunch Ideas
Preparing gluten-free lunches for school can be a challenge, but with a bit of planning, you can create delicious, nutritious options that children can enjoy just as much as traditional lunchbox options.
Gluten-free sandwiches (made with bread or wraps from gluten-free grains) are a great choice; you can fill them with lean meats, cheese, lettuce, and tomatoes for a balanced meal
Gluten-free rice or quinoa salads with vegetables and protein are also convenient and tasty for less fussy eaters
Don't forget to include fresh fruit, gluten-free granola bars, or homemade trail mix for extra energy-boosting snacks
Don't hesitate to communicate with your child's school to ensure they understand their dietary needs and can provide suitable options if necessary.
Tips for a Successful Gluten-Free Diet
Read food labels carefully to identify gluten-containing ingredients and potential cross-contamination risks
Stock your pantry with gluten-free staples like rice, quinoa, gluten-free flours, and gluten-free snacks
Opt for whole, unprocessed foods whenever possible to ensure a nutritious and balanced diet
Cook meals from scratch using fresh ingredients to have more control over the gluten-free content
Involve your child in meal planning and preparation to make them feel empowered and engaged in their dietary choices
Parting Thoughts
With the abundance of gluten-free foods available, it's now easier than ever to provide a diverse, satisfying diet for children with gluten sensitivities or celiac disease.
From breakfast options to school lunches, snacks, and desserts, there are tons of delicious and healthy gluten-free choices out there to keep kids happy and nourished. By understanding the various alternatives and exploring creative recipes, parents and caregivers can ensure their children enjoy a gluten-free lifestyle without feeling limited or deprived; with careful planning and a positive attitude, a gluten-free diet can also be a valuable opportunity to introduce new flavors, textures, and culinary adventures to be explored!