Pesto can be used as an ingredient in many recipes and brings a punch of flavor to these Savory Zucchini and Fontina Muffins. With authentic Italian taste capturing the recipes of the region, Filippo Berio's line of vegetarian, gluten-free and GMO-free pestos are made to suit nearly any taste.
For more flavorful recipes and ways to cook with pesto, visit FilippoBerio.com.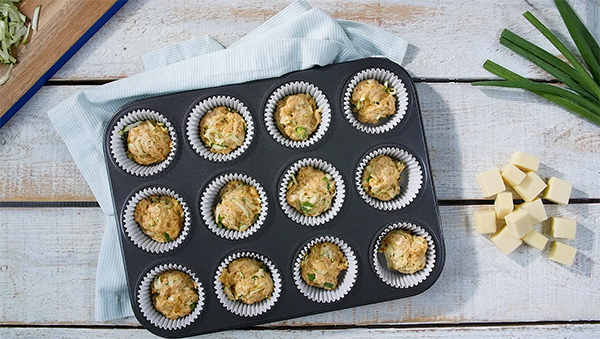 Savory Zucchini and Fontina Muffins
Prep time: 15 minutes
Cook time: 15 minutes
Total time: 30 minutes
Serves: 12
2          cups all-purpose gluten free flour
1          tablespoon baking powder
1/2       teaspoon salt
1/4       teaspoon freshly ground pepper
1/2       cup Filippo Berio Sun Dried Tomato Pesto, divided
1/3       cup Filippo Berio Extra Virgin Olive Oil
3/4       cup milk
1/4       cup granulated sugar
1          egg
1          cup shredded zucchini
2          green onions, finely chopped
12        cubes (1/2 inch each) fontina cheese
Heat oven to 400° F. Line 12-cup muffin pan with large paper liners.
In large bowl, whisk flour, baking powder, salt and pepper. In separate bowl, whisk 1/4 cup pesto, olive oil, milk, sugar and egg; stir into flour mixture until moistened. Fold in zucchini and green onions.
Divide half the batter evenly among muffin cups; place cube of fontina on top of batter. Top each with 1 teaspoon remaining pesto; top with remaining batter.
Bake 15-20 minutes, or until golden brown and top of muffin springs back when pressed lightly. Let cool slightly; serve warm.
Tip: To make extra savory, add 1/2 cup cooked and crumbled bacon.
SOURCE:
Filippo Berio